Center for Entrepreneurship, Innovation and Transformation
In times of economic upheaval, it is important to develop new business fields through innovation, business creation and start-ups, but also to ensure economic sustainability of traditionally successful companies and institutions. Overall economic challenges such as crisis management, transformation of the energy system, digital transformation or the increasing number of new businesses are regionally reflected in many different ways.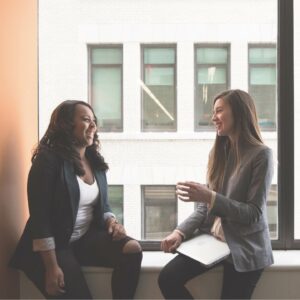 The Faculty of Management and Economics of the Ruhr-Universität Bochum established the CEIT to develop future perspectives in a regionally networked manner and to unite those who are interested in the topics of entrepreneurship, innovation and transformation. The CEIT, with its combination of management and economic expertise, intends to serve as a connecting element and catalyst for economically profound projects in research and practice.
The CEIT's fields of activity  are defined by the following functions:
The CEIT conducts research in the fields of entrepreneurship, innovation and transformation and initiates projects in cooperation with other members of the faculty.
The CEIT makes it easier for students, graduates and researchers to take the step into founding a company.
The CEIT designs teaching and advanced training courses in its subject areas and establishes networks with political and economic actors
for mutual knowledge transfer.
The CEIT accompanies entrepreneurs and companies throughout the entire life cycle in order to increase resilience of different operational functions (sales, financing, risk management, etc.).
The CEIT defines itself as a catalyst for the pooling of competences for research-focused innovative projects and initiates inter- and transdisciplinary projects at the RUB and within the University Alliance Ruhr. Furthermore, it supports the identification of projects with a potential for commercialisation and spin-offs.
The CEIT informs people inside and outside the university about activities at the RUB in the areas of entrepreneurship, innovation and transformation and, if necessary, refers them to other contact persons. For this purpose, a signpost has been set up on the website.
Prof. Dr. Torsten Schmidt
ist seit 2019 außerplanmäßiger Professor an der Ruhr-Universität Bochum und Leiter des Kompetenzbereichs Wachstum, Konjunktur, Öffentliche Finanzen am RWI – Leibniz-Institut für Wirtschaftsforschung in Essen.
Er studierte Volkswirtschaftslehre an der Universität Göttingen und wurde an der Universität Zürich promoviert. Seit 2000 ist er am RWI – Leibniz-Institut für Wirtschaftsforschung tätig. In seinen Forschungsarbeiten analysiert er empirische und wirtschaftspolitisch relevante Fragestellungen aus den Bereichen der Konjunkturanalyse und -prognose, der mittelfristigen Wirtschaftsentwicklung sowie des demografischen Wandels.
…hier die wirtschaftspolitische Relevanz sowohl in der Forschung als auch in der Lehre eine große Rolle spielt. So kann ich meine Erfahrungen als Konjunktur-Chef des RWI – Leibniz-Institut für Wirtschaftsforschung unmittelbar einbringen.
Geschäftsführer des Centrums für Entrepreneurship, Innovation und Transformation (CEIT) und wissenschaftlicher Mitarbeiter am Dekanat der Fakultät für Wirtschaftswissenschaft
Prof. Dr. Stefanie Bröring
Chair of the department
,
Professor
Employee in technology and administration
Dr. Michael Rennings (geb. Wustmans)
Academic council
,
Scientific assistant
Chair of the department
,
Professor
Employee in technology and administration
Prof. Dr. Brigitte Werners
Chair of the department
,
Senior Professor
Dr. Vivian Peuker Steinhäuser
Post-Doc
,
Scientific assistant
Prof. Dr. Torsten Schmidt
Chair of the department
,
Professor
Post-Doc
,
Scientific assistant
The fundamental objective of this course is to explore current trends in entrepreneurship research as well as examine and evaluate research gaps in the field of technology-based entrepreneurship to better explain entrepreneurial phenomena in different settings. Participants will develop their own research idea in a term paper by applying different theory lenses and concepts. Therefore, the seminar includes literature studies, preparations of research concepts, and the state of the art in entrepreneurship literature. The course contributes to understand the emergence of entrepreneurial processes and how new insights in entrepreneurship research enable the implementation of new services, products, or processes.
Advanced Seminar Entrepreneurship (MSc)
Vor dem Hintergrund zahlreicher Transformationsprozesse, wie beispielsweise der Nachhaltigkeitstransformation oder der digitalen Transformation, werden die Kenntnis über sowie die Bewertung von neuen, technologiebasierten Erfindungen und Innovationen immer wichtiger. Innerhalb des Moduls Technologiemanagement werden daher ausgewählte Methoden des Technologie- und Innovationsmanagements auf reale, technologiebasierte Erfindungen, Innovationen und Fallbeispiele angewandt. In Form eines Blockseminars erlernen die Teilnehmenden an drei Präsenztagen die Grundlagen des Technologie- und Innovationsmanagements, die Überführung von technologiebasierten Ideen in innovative Geschäftsmodelle sowie die Nutzung von Technologieplanungs- und Technologiebewertungsmethoden. Am ersten Tag der Blockveranstaltung werden Technologietypen und Innovationsprozesse erläutert sowie Methoden der Technologiefrüherkennung und -bewertung angewandt. Zu den anzuwendenden Methoden zählen unter anderem die Analyse von Megatrends, die Beobachtung potenzieller Wettbewerber und relevanter Technologien auf Basis von Sekundärdaten, wie beispielsweise Patent- und Trenddaten. Am zweiten Tag lernen die Studierenden die Grundlagen des Technologieportfolio-Managements und von Technologie-Innovationssystemen kennen. Darüber hinaus werden für reale, technologiebasierte Innovationen und Fallbeispiele Technologie-Roadmaps und Technologieumfeld-Analysen erstellt. Am dritten Tag werden Erfindungen, Innovationen und Fallbeispiele in geeignete Geschäftsmodelle überführt. Hierzu werden Methoden der Geschäftsmodellanalyse sowie zur Geschäftsmodellinnovation (bspw. Business Modell Canvas) angewendet und die Erfindungen, Innovationen und Fallbeispiele in ein Business-Ökosystem eingebettet (Ökosystemanalyse). Die realen, technologiebasierten Erfindungen, Innovationen und Fallbeispiele stammen in der Regel aus den Inkubatoren des Worldfactory Start-up Center (WSC). Studierende begleiten jeweils eine der vorgestellten Erfindungen, Innovationen und Fallbeispiele, wenden die vorgestellten Methoden auf diese Technologien an und nutzen die Ergebnisse als Grundlage für die Ausarbeitung einer schriftlichen Hausarbeit.
Technologiemanagement (BSc)
This course introduces various qualitative and quantitative research methods which are particularly relevant for entrepreneurship and management research, whether in an academic or corporate setting. Some examples of such methods are comprehensive literature review, expert interviews, expert surveys, qualitative content analysis, quantitative data analysis, group concept mapping, and choice modelling. In this way, the course is set up to introduce and facilitate the application of these exploratory research methods for different units of analysis, such as individuals (e.g., entrepreneurs and managers), actors (e.g., start-ups, established companies and research institutions), or the entire ecosystems. Where applicable, students will become acquainted with relevant software and databases to apply the methods to their own research in the field of entrepreneurship.
Exploratory Methods in Entrepreneurship Research (MSc)
Foundations of Entrepreneurship serves as the gateway course to the entrepreneurship education at CEIT. The main focus of this course is to consider and discuss entrepreneurial processes in established firms as well as newly created ventures. This course thus focuses less on the 'how' of entrepreneurship, but on the 'what' and the 'why'. It considers theories on the nature of entrepreneurship that explain entrepreneurial success and how entrepreneurship relates to innovation. Each lecture is devoted to a particular topic, which we cover through a combination of lecture, case-based discussion, and in-class activities. Over the course of the semester, students will work in teams to work on case studies, culminating in an end-of-term individual case development and presentation.
Foundations of Entrepreneurship (MSc)
This course brings together key learnings about business model innovation for established firms as well as for science and technology-based ventures. This course teaches creating and validating a comprehensive business model, that is, the architecture that specifies the mechanisms of value proposition, creation and capture for emerging venturing ideas as well as for established organisations that intend to renew their business models.
Seminar Business Model Innovation (MSc)
Entrepreneurship
The Faculty of Business and Economics has set itself the goal of being the central economic entrepreneurship competence on campus and in the region. To promote the start-up culture, we offer – also in cooperation with various faculties of the RUB, the Worldfactory and other partners from science and industry – numerous teaching and further education programmes, advisory and networking opportunities.
Educational offers on the topic
Joint workshop of the Faculty of Economics and the engineering faculties of the RUB for doctoral students. The focus of this event is on the topic of start-ups. The founding team "PHYSEC" got to know each other during this event.
Dr. Andreas Bonse, Dr. Fabian Schmitz, Dr. Anna Talmann, Prof. Dr. Nicola Werbeck
Content-related support and coaching of the founders, especially with regard to organisational and strategic aspects as well as with regard to the development and expansion of their network. Provision of resources; for example in the form of premises, software, equipment or access to students as assistants, interns or for project-related collaboration in the form of theses.
Mentoring promotes the exchange of knowledge and experience, it steers thinking in new directions and supports networks." This is how the WORLDFACTORY START-up Center advertises its mentoring programme on its website. Following this motto, we are currently supporting the young start-up Dormciety as part of the WSC's mentoring programme, which emerged from the faculty's own entrepreneurship activities to create networks and thus enable the founding team to follow new paths for successful further development.
Lea Decker, Prof. Dr. Nicola Werbeck
"The "Entrepreneurial Idea Competition" is aimed at RUB students (Bachelor, Master, PhD) with innovative ideas from science and research. "Whether flyer, poster or idea sketch, there are no limits to your imagination. set. Send us a meaningful presentation of your founding idea and win 1,500 euros! In addition, you will be given the opportunity to give your best in a creative video pitch within 2-3 minutes. all out in a creative video pitch. Send us an appealing video and use the opportunity to opportunity to prove that your idea should be promoted!"
Lea Decker, Prof. Dr. Michael Roos, Nicholas Schmidt, Dr. Fabian Schmitz, Dr. Anna Talmann, Prof. Dr. Nicola Werbeck
Researchers & Research Institutions
The Human Side of Digitizing the Innovation Process - Completed
Clarisa: Climate-Related Risk Assessment & Scenario Analysis - EN
bottom-up.city - Start-up Transfer.NRW
Batool, S. N., Imam, H., & Bröring, S. (2022). How shared leadership in entrepreneurial team influences the entrepreneurial passion? Roles of ADHD and innovation ability in tech ventures. 27th High Technology Small Firms Conference (HTSF), 10. – 11. November 2022, Münster.
Carraresi, L., Bröring, S. (2022). The Implementation of Emerging Clean Technologies and Circular Value Chains: Challenges from Three Cases of By-Product Valorization. In: Prokop, V., Stejskal, J., Horbach, J., Gerstlberger, W. (eds) Business Models for the Circular Economy. Sustainability and Innovation. Springer, Cham.
Steinhauser, V. P., & da Rocha, A. (2019). Bureau de Eventos: internationalization of an emerging country event planning company. The CASE Journal.
Aguiar, A. C. W. C., & Steinhäuser, V. (2019). Branded Content-Strategic Marketing Tool and its Impact on Consumer Branded Content-Ferramenta Estratégica de Marketing e seuImpacto no Consumidor. Braz. J. Mark. Res. Opin. Media, 12, 138-154.
Steinhäuser, Vivian Peuker Sardon, Fábio de Oliveira Paula, and Teresia Diana Lewe van Aduard de Macedo-Soares. "Internationalization of SMEs: a systematic review of 20 years of research." Journal of International Entrepreneurship 19.2 (2021): 164-195.
Rennings, M., Burgsmüller, A. P. F., & Bröring, S. (2022). Convergence towards a digitalized bioeconomy—Exploring cross‐industry merger and acquisition activities between the bioeconomy and the digital economy. Business Strategy & Development.
Interested in working at CEIT?
Centre for Entrepreneurship, Innovation and Transformation (CEIT)
Further thematic fields of competence
Finance, Accounting, Auditing, Controlling, Taxation
Centre for International and Spatial Economics
Centre for Environmental Change, Resources and Energy
Sales Management Department