Center for Environmental Management, Resources and Energy
Climate change, the energy transition, declining biodiversity and sustaina-bility are the challenges of modern time. These are also the topics that form the core of research and teaching at the Center for Environmental Management, Resource and Energy Economics.
CURE has been established within the Faculty of Management and Economics at the Ruhr-Universität Bochum to enhance the joint research activities of the scholars focusing on the following topics:


Energy and climate economics
Operational and economic sustainability
Economics in competition-based economic systems
Corporate environmental management
Decarbonization of operational production and service processes
Protection of species and resources (animals, plants, water, soil, air)
The aim of the center is, on the one hand, to bundle and coordinate the relevant teaching within the bachelor and master modules. On the other the center enhances an integrative approach, which incorporates business administration, economics and legal perspectives. The aim is to set up a group of young researchers at CURE that advances the inter- and transdisciplinary social-ecological research in conjunction with other faculties at the Ruhr-Universität Bochum.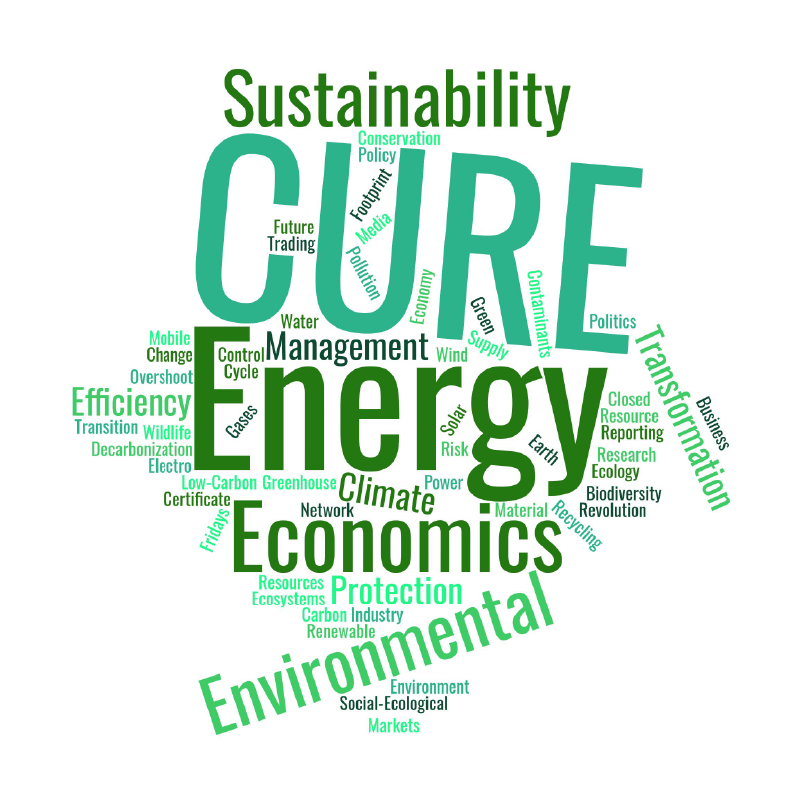 Dr. Elkhan Richard Sadik-Zada
Postdoctoral Research Fellow
Assoziiertes Mitglied
,
Scientific assistant
Chair of the department
,
Professor
Honorary Professor
,
Professor
Prof. Dr. Sven-Joachim Otto
Employee in technology and administration
Franziska M. Hoffart, M.A.
We bring together those who focus on the following topics in teaching and research:
Energy and climate economics
Operational and economic sustainability economics in competition-based economic systems
Corporate environmental management
Decarbonization of operational production and service processes
Protection of species and resources (animals, plants, water, soil, air)
Participation & transformation
BIOÖKONOMIEREVIER – Aufbau und Erprobung einer partizipativen Governance zur Entwicklung der Modellregion BioökonomieREVIER Rheinland
Fokusthemen:
Modellregion Bioökonomie
,
Partizipation
,
partizipative Governance
,
Rheinisches Revier
DIALOGBRÜCKEN. Stromnetzausbau vor Ort: Die Rolle von Kommunen als Dialogbrücken zwischen nationaler Planung und lokalem Protest
Fokusthemen:
Energiewende
,
Netzausbau
,
Partizipation
HiPerIn 2.0 − Erforschung der (Nicht-)Akzeptanz hochwertiger Inhaltsstoffe
Fokusthemen:
biobasierte Ausgangsstoffe
,
Bioökonomie
,
High-Performance Ingredients
GenoMobil – Genossenschaften als Organisationsform für eine sozial-ökologische Transformation integrierter Mobilität
Fokusthemen:
mobility
,
Policy advice
"BEWEG DEIN QUARTIER!" Co-kreative Entwicklung von Stadträumen als Game-Changer für die Mobilitätswende
Fokusthemen:
Beteiligung
,
Mobilitätswende
,
Partizipation
,
Quartiersentwicklung
Collaborative Project
,
Single Project
Konzept einer integrierten, nachhaltigen Mobilität für die Universitätsallianz Ruhr (InnaMoRuhr)
Fokusthemen:
mobility
,
Policy advice
Mukherjee, V., Rübbelke, D., Stahlke, T. & Brumme, A. (2022). Allocation of Adaptation Aid: A Normative Theory. Jahrbücher für Nationalökonomie und Statistik, 0(0). https://doi.org/10.1515/jbnst-2021-0031
Unfortunately there are no courses registered at the moment.
Prof. Dr. Marion Steven, geb. 1960, ist seit 1996 Inhaberin des Lehrstuhls für Produktionswirtschaft an der Fakultät für Wirtschaftswissenschaft der Ruhr-Universität Bochum.
Marion Steven absolvierte 1981 eine Banklehre. Daraufhin studierte, promovierte und habilitierte sie an der Universität Bielefeld. Sie hat im Bereich Hierarchische Produktionsplanung promoviert und im Bereich Produktion und Umweltschutz habilitiert. Ausgehend von der Tatsache, dass ein Großteil der Umweltbelastungen aus industriellen Fertigungsprozessen resultiert, befasst sich Marion Steven bereits seit langem in Forschung und Lehre mit den Umweltwirkungen der Produktion. Frühere Forschungsthemen waren z. B. die Integration des Umweltfaktors in verschiedene produktionstheoretische Konzepte, die Entsorgungslogistik, die Umweltkostenrechnung, die Kreislaufwirtschaft, die Auswirkungen des EU-ETS auf die Luftfahrtindustrie und die Umweltberichterstattung. Aktuell liegt der Forschungsschwerpunkt auf der Entwicklung von Nachhaltigkeitsindikatoren (Green Productivity Index), die eine integrierte Beurteilung der ökonomischen, ökologischen und sozialen Aspekte der Produktion ermöglichen, und der Untersuchung der Auswirkungen der Digitalisierung auf die Nachhaltigkeit sowohl auf der Ebene des einzelnen Unternehmens als auch in Industrie 4.0-Netzwerken. Weiter werden die Nachhaltigkeitspotentiale von Smart-Circular Product-Service-Systems untersucht, bei denen die Kreislaufwirtschaft mit der Sharing Economy kombiniert wird, um eine intensivere und längere Nutzung von im Wirtschaftssystem vorhandenen Materialien zu erreichen.
…sie in Forschung und Lehre gut in der Region verankert ist. Die intensive Zusammenarbeit zwischen Betriebswirten und Volkswirten eröffnet ein spannendes Arbeitsgebiet mit vielfältigen Anknüpfungspunkten.
Interested in joining the Cure?
Unfortunately, there are currently no tenders.
Centrum für Umweltmanagement, Ressourcen und Energie (CURE)
Further thematic fields of competences
Sales Management Department
Finance, Accounting, Auditing, Controlling, Taxation
Centre for Entrepreneur­ship, Innovation and Transformation
Centre for International and Spatial Economics